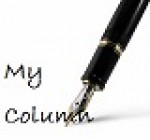 Premier Ford's Parental Consultation: What and How to Respond?  
Jawed Anwar
Updated
PREMIER Doug Ford opened up the promised parental consultation process on sex-ed by launching the Ontario government's consultation website.
Based on your feedback from the consultation, the Ford administration will write a new sex-ed curriculum. This consultation will close on December 15. So please don't delay. For all concerned parents, grandparents, residents, and citizens, it is like "do or die" situation. Please respond NOW.
Parents and other concerned Ontario residents and citizens can begin submitting their feedback on the sex-ed curriculum immediately via an online submission form or by email.
In the near future, the government will also launch an online survey, plus a schedule of telephone town halls in every region of the province.
It is extremely important that parents and concerned citizens flood the Ford Administration with feedback.
Please begin immediately to submit feedback on what you disliked about the Wynne/Levin sex curriculum (2015) and New Accepting School Act (2012), what you want to see in the new curriculum/system that Premier Ford will create, and what you don't want to see in it.
To assist you, we've prepared some talking points to help you explain why the harmful elements of the Wynne/Levin sex program and New School Accepting Education Act must be deleted or changed in any new curriculum/system update.
Additionally, we've provided talking points to ask for additional lesson content in areas of the sex-ed curriculum that Kathleen Wynne either did not cover at all or did an inadequate job. See the lesson listings below.
Our responses should include the following (You can write in your words based on the following content or copy and paste in the "Submission Form":
(https://www.ontario.ca/page/for-the-parents)
I have selected few Qs to respond;
Q6:[How can we build a new age-appropriate Health and Physical Education curriculum that includes subjects like mental health, sexual health education and the legalization of cannabis? (Maximum 500 words)
Our Response:
"Lessons to be deleted or changed from Kathleen Wynne's controversial sex- ed curriculum and Education System (New Accepting Schools ACT);
Gender Identity Theory and references
Anal Sex
Oral Sex
Homosexuality
Masturbation
Sexual Pleasure
Make a Personal Plan about Your Sexual Activity
Keep a Condom with You
Downplaying the Seriousness of HIV Infection
Romantic Dating
Genitalia & Sexual Consent
The document "Challenging-Homophobia-and-Heterosexism-2012-update" from School Curriculum/System
Gay-Straight Alliance Club
Pink Day in Schools (activities promoting homosexual life style)
Gay Pride Week or Day (in school)
Don't allow cannabis within one kilometer radius of the school.
Lessons that are lacking in the Wynne Curriculum and System that should be addressed by Premier Ford's upcoming new sex ed.
Abstinence / Chastity
Sexual Relationship only after Marriage
Involve local Church/Masjid in the area of school for sex and family education
Condemn Pornography Unequivocally
Condemn Sexting Unequivocally
Medical Risks of Anal Sex
Medical risks of oral sex
Give Students More Honest, Science-Based Presentation of HIV/Aids
Negative Consequences of teen sexual activity
Characteristics of healthy, long term relationships
Positive results associated with marriage
--------------------------------------------
Q7:[What elements should be included in a Ministry of Education Parents' Bill of Rights? (Maximum 500 words)]
Our Response:
"Parents should have right to reject and opt out from any part of the curriculum of any subject and activity.
Parents should have right to choose alternate schooling; private, faith based school. Government should ensure public funding for the faith based schools with ensuring religious freedom as guranteed by Canadian Charter of Rights and Freedoms ."
Q8: [Do you have any other feedback or ideas? (maximum 500 words)]
Our Response:
"I will strongly recommend for public funding to private and faith based schools with freedom of teaching curriculum that confirms their conscience and religion guaranteed by the Canadian Charter of Rights and Freedoms.
["The Canadian Charter of Rights and Freedoms guarantees the rights and freedoms set out in it subject only to such reasonable limits prescribed by law as can be demonstrably justified in a free and democratic society.
Fundamental Freedoms
Everyone has the following fundamental freedoms:
(a) freedom of conscience and religion;"]
------------
Phil Lees suggests (You can e-mail separately for Ford's parental consultation at the following email; fortheparents@ontario.ca)
"A Better Approach to Sex Education: Sexual Risk Avoidance (SRA)
There are 2 approaches to sex education:
Sexual Risk Reduction - based on the premise that children will be sexually active so we need to teach them ways to express themselves sexually that are less risky (eg. condoms, alternative ways to express sexually that are less risky, etc)

Sexual Risk Avoidance (Improvement on abstinence) – which makes kids aware of the dangers of sexual activity
The 2015 curriculum is based on Sexual Risk Reduction or Comprehensive Sex Education (CSE).
Research shows that there is "no evidence of effectiveness for school-based CSE at reducing teen pregnancy or STDs, or increasing teen abstinence or consistent condom use." (Source: https://www.institute-research.com/CSEReport/Letter-IRE-HHS_9-12-17.pdf)
There is evidence that well-designed Sexual Risk Avoidance programs are effective. Peer-reviewed studies of abstinence education curricula have found positive effects still present up to two years after the program was taught. (Source: https://www2.cortland.edu/dotAsset/defeb15c-4252-4795-9d40-75e0302edb84.pdf)
If the goal of sexual health instruction is to help youth to delay sexual activity, the key predictors of a teenager's decision to delay sexual involvement are:
Having the belief that abstaining from sex outside of marriage has important benefits

Believing that you have positive opportunities in your future and that having sex could negatively affect those opportunities.

Not justifying sex as being okay "if you are in love," or "safe" as long as you use a condom, or as "a way to show you care for someone."

The ability to resist peer pressure that goes against your beliefs.

Personal efficacy—how confident you are that you can do what is necessary to delay sexual involvement.

Having the intention to abstain from sex.
(Source: https://www2.cortland.edu/dotAsset/defeb15c-4252-4795-9d40-75e0302edb84.pdf)
If this is the goal, then we need to teach:
a) The positive results of abstaining from sex until marriage:
Research that proves the most effective, long term, healthy, happy relationships is within marriage. Why Marriage Matters, (secular research that has examined all of the research on the various types of families and relationships) proves statistically that marriages result in:

Healthier families relationships

Increased earning potential

Better physical health and increased longevity

Better mental & emotional health

Reduced exposure to crime and abuse
(Source: http://www.americanvalues.org/catalog/pdfs/wmm3-30-conclusions.pdf)
b) The negative consequences of early teen sexual activity
Interferes with achieving your education

Interferes with you achieving your goals in life

Negative effect on future family relations

Negative effect on earning potential

Negative effect on physical health

Negative effect on mental and emotional health (increased risk of suicide, depression, etc)

Increased risk of exposure to other high risk activities … 1/3 of all teen sex is connected to alcohol or drugs

Increased risk of exposure to sexual abuse (evidence proves that the early teen sexual activity increases the person's exposure to being abused, and raped)
c) The knowledge and skills that reinforces the decision to abstain:
Invest time to have students to identify their goals and values and to plan

Strategies to connect the instruction to the child's parents and faith community so that the child has a clear understanding of and connection to where their morals and values are on this issue.

Condom efficacy – the actual failure rate of contraceptives with respect to protection from STIs. For example condoms are only 30% effective at preventing transmission of some STIs.

Student must be able to identify potentially risky situations and set up their boundaries…

being at a boyfriend or girlfriend's house when parents are not home

being at a party that is unsupervised

being at a social gathering where there is alcohol/drugs

Development of and practice in refusal skills that will help the child to protect their goals and values.

Implementation of SAFE acronym when you are being coerced to engage in sex:

STATE Boundaries

Establish boundaries

Write them down

Share with parents, close friends and anyone your are dating that you are committed to abstinence and expect them to uphold your boundaries

AVOID danger

Stay out of situations that make it challenging to abstain

FIRMLY say no and be able to explain why

EXIT – if coercion continues
Including Parents and Faith Communities
Most Effective Agents of Influence over the Child's Sexual Decision Making
There is no other subject in school that is so values laden than sexual health instruction. In Ontario we live in a pluralistic province where there are differing values. However, there is general agreement that teens should delay sex.
It is widely accepted that the most effective agents of influence over a child's sexual decisions are parents, faith community and then secular society.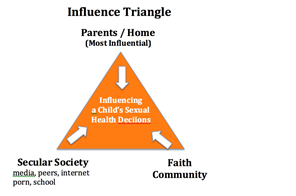 Unfortunately, parents and faith communities often feel ill-equipped and do not instruct their child in the subject area. The result, when a child has questions about sexuality, the most common place for them to go to Google which accesses them to internet porn.
If parents and faith communities have the greatest potential of helping our youth to achieve the goal of abstinence, then the government needs to develop mechanisms for parents and faith community to engage on the subject.
Eg:
There is a parent program called Building Family Connections being used in Ontario that equips parents to begin the life long discussion with youth about sex and healthy relationships. (Source: peacontario.com)

There is currently a program (Heritage Keepers) that faith communities are beginning to use to instruct on Sexual Risk Avoidance (Source: www.peaceontario.com)
Choice in Education that Reflect the Pluralistic Province
Sexual integrity is defined as when "your sexual decisions are in alignment your morals, values and relationship obligations."
Ontario is a pluralistic province where there is a range of opinion on what is acceptable and what is not sexually.
The Premier stated that we need an education system that respects all parents – this may mean providing choice that is in alignment with the varying family positions.
Considering the range of opinions on this issue, that this range exists within our teaching staff, and it would be difficult for a teacher to instruct in a way that he/she does not subscribe to, it may be necessary to do one of the following:
Remove sex education from the curriculum and provide a mechanism for parents to opt-into community-based programs that parents may opt into. These can be SRR or CSE based programs. It would then be possible to track the results and learn from the results.
Provide choice in sexual health programs within a school. This could start by offering Comprehensive Sex Education and Sexual Risk Reduction programs; allow parents to choose the program and then monitor the results.
Provide a mechanism for "faith sensitive" alternative classrooms where all programs are delivered with understanding of the background of the families.
-------------------------------------------------------------
For additional talking points ?(for you), you can watch this video by Dr. Miriam Grossman, a professional child psychologist who dissected the Liberal sex curriculum in 2015 and gave devastating insights into the harm it would cause.
https://www.youtube.com/watch?v=21YvYPD56-U
It's what we've been waiting for.
Please give your feedback to the Ford government. The Premier promised he would listen to the parents. Well, he's listening now, so don't miss your chance to tell Ford what you want!
Premier Ford and Minister Lisa Thompson must see evidence that the parents who elected him on the basis of repealing the liberal ideology sex curriculum are still the majority.
Please start now with the online submission form and/or the email option. Then, be ready to jump on whatever telephone town halls are set up in the near future. The pro-parental rights side of this battle must flood the consultation mechanisms.
The online submission form has a word limit, so if you haven't given all the feedback you want to give, use the submission form a second or third time if necessary.
It's do-or-die time for our parental rights in education. Let's win this battle!
Check following videos on Sex-Ed and New Accepting Schools Act (2012)
Save Your Children--Save Your Generation- Phil Lees
https://www.youtube.com/watch?v=ZCmR0F0nzug
-----------------------------------------------------------------------------
Jawed Anwar can be reached at jawed@seerahwest.com
Prepared with the help of Campaign Life Coalition
Phil Lees P.E.A.C.E., and Dr. Miriam Grossman
-------------------------------------------------------------------------------------------
Repeating Info:
The web link of government to respond is;
https://www.ontario.ca/page/for-the-parents
Submission Form:
https://www.ontario.ca/form/open-submissions-education-ontario
If you still have issue of how and where to respond please text or What's app to Jawed Anwar at 416.568.8190. I will call you back.
Recent posts
Muhammad [Pbuh] Changes the World

10 November 2016

Understanding the Term "DEEN"

12 January 2016

A Grade-by-Grade Breakdown of Ontario New S-x-Ed Program

01 March 2015

Promoting Gay Culture and Gender Change in the Ontario Schools

01 March 2015

Western Education Vs Islamic Education

22 December 2015

Quran Blue Print– For the Busy Muslims and Muslimahs

04 November 2016